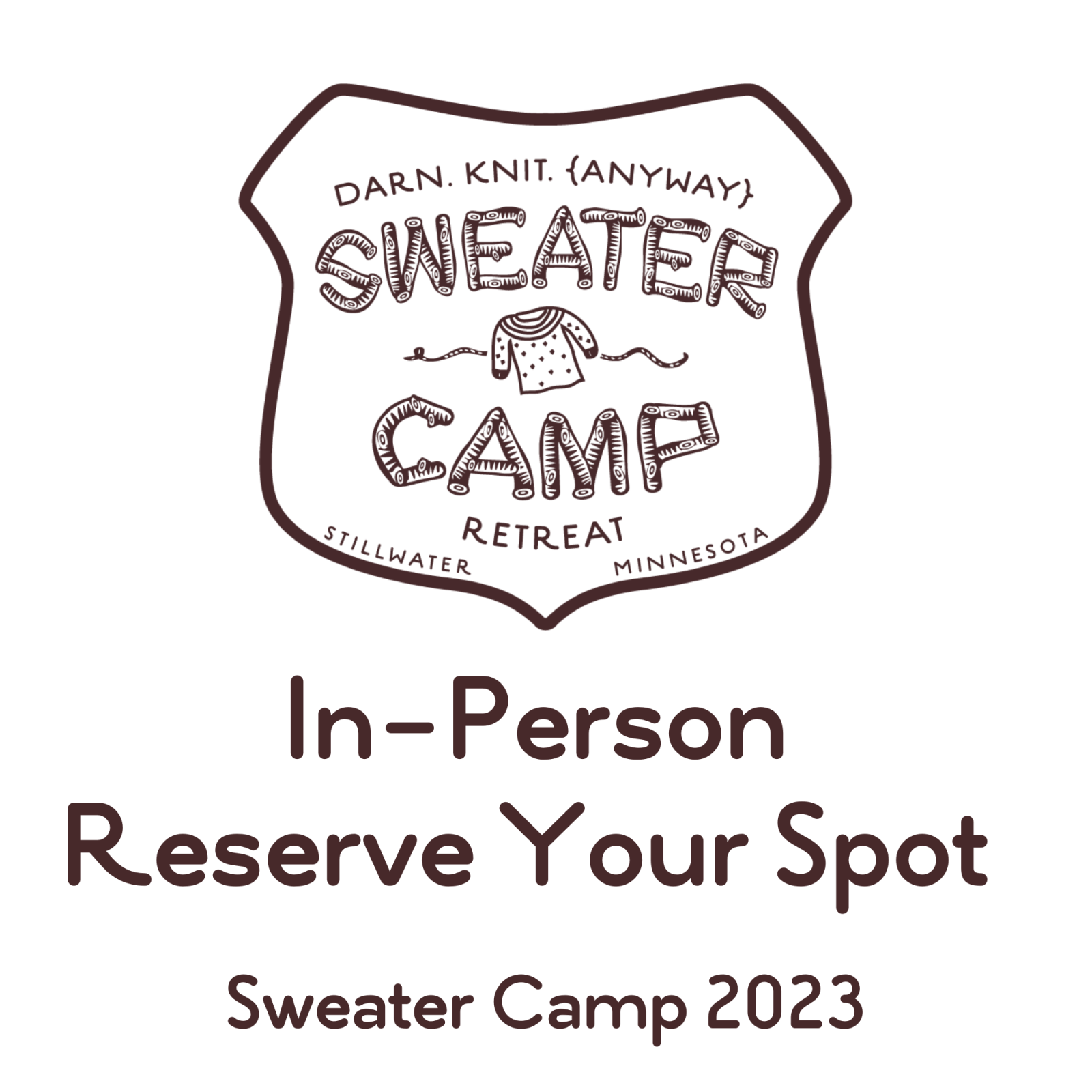 Sweater Camp is February 3rd, 4th & 5th

The total cost of this event is $575. This is the down payment of $100. It is required to hold your spot and is non-refundable (unless your bestie doesn't get a spot, then we'll credit you back:)

The remainder of your payment must be completed by December 1st. We will be sending payment reminders via email. Or you can just call the shop or stop in and we'll help you make a partial payment.
------------------------------------------------------------
It's 3 full days of fiber fun with friends. We'll be talking about all things wool, yarn, and yes, sweaters. Yes, crochet too!
Don't want to make a sweater, but still want to come? Works for us. Bring whatever project you want.
We'll host live video chats with your favorite designers, yarn companies, and more.
Two of our confirmed presenters:
Anna Hunter
- Long Way Homestead
What else is included:
Camp store with beautiful yarn and notions from some of our favorite companies.
Lots of project samples from some of our favorite vendors
Awesome bag of swag
Continental breakfast, lunch, and snacks all 3 days (oooooh it's good this year!)
Cocktail hour Friday and Saturday
Door prizes
Unlimited help from your awesome DKA Team
More surprises...
Where:
JX Event Venue
8 minute walk from the shop.
A note about the venue. This is a very large space. JX Event Venue hosts seated wedding dinners for 500 people. So, there is plenty of room for our campers. Because of the high-end nature of the venue, the food is also top-notch. You will not be disappointed!!
When:
Friday, February 3rd - Sunday, Feb 5th, 2023
This event does not include lodging. If you wish to spend the night in town, Stillwater offers many options for lodging. Visit
Discover Stillwater
to see all the options available.
No discounts or rewards apply towards Sweater Camp Retreat registration.
There is a VIRTUAL option for Sweater Camp in 2023.
Click here
to read more about the Virtual Option.
We know that the registration price of camp is not economically possible for everyone. We have worked hard to find ways to offer more options for attendance. We are proud to offer several full scholarships in 2023 for people who might not otherwise be able to join. We especially welcome applications from people who are often underrepresented in the fiber community. Your scholarship status will be private.
The deadline for the Sweater Camp Scholarship application is Friday, August 26th. We will notify selected applicants by Sept 1st. The application is open now.
You can nominate a friend for this scholarship, but the friend must be aware of your nomination and must agree to be nominated.
Click here to apply
for a scholarship for yourself
Click here
to nominate someone else.