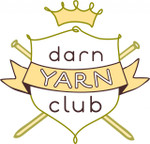 NEW! Join our Darn Yarn Club
Get exclusive access to luxury yarns, one-of-a-kind colors and indie dyers, delivered monthly right to your door! For more information and to sign up, visit our store page.
Visit our store in Stillwater, Minnesota to find:
• Unique, one-of-a-kind yarns
• Deep product lines from a small number of manufacturers
• Natural, hand-spun, and locally-manufactured yarns
• Knitting/sewing accessories
• Handmade items from local artists
We ship just about anywhere!
Give us a call (651.342.1386) or email us with requests.